Kansas Democrats are fighting for your values.
From different backgrounds and from across the state, we're united toward solving the problems Kansas faces.
We believe Kansas does best when our leaders seek partnership and compromise rather than ideological projects or zero-sum partisanship. We believe all Kansans are connected by the everyday values of hard work, common sense, and our enormous pride for Kansas' long history of strong public education. For generations, Kansas Democrats have followed the same, simple belief: Kansans deserve better.
We believe that government has a responsibility to promote policies that provide economic and social justice, a clean environment and safe workplaces. In short, we believe that government has a responsibility to improve the human condition.
Kansas Democrats are committed to putting the people of Kansas first by promoting the values and policies that advance the common good for all Kansans, through:
sensible leadership and sound, pragmatic decision-making;
fairness in our policies;
investments in our children, our families, and our communities;
expanded opportunities for every resident of our state.
Our core values call on all Kansans to work together to make our state an outstanding place to live, work, and raise a family.
Kansas Democrats believe that, to express the democratic will of the people of Kansas, our government should encourage, enable, and facilitate the active participation in the political process of all people regardless of their race, color, age, physical abilities, economic status, religion, creed, sex, national origin, ethnicity, veteran or military status, sexual orientation, or gender identity.
Let's move our state forward!
Our history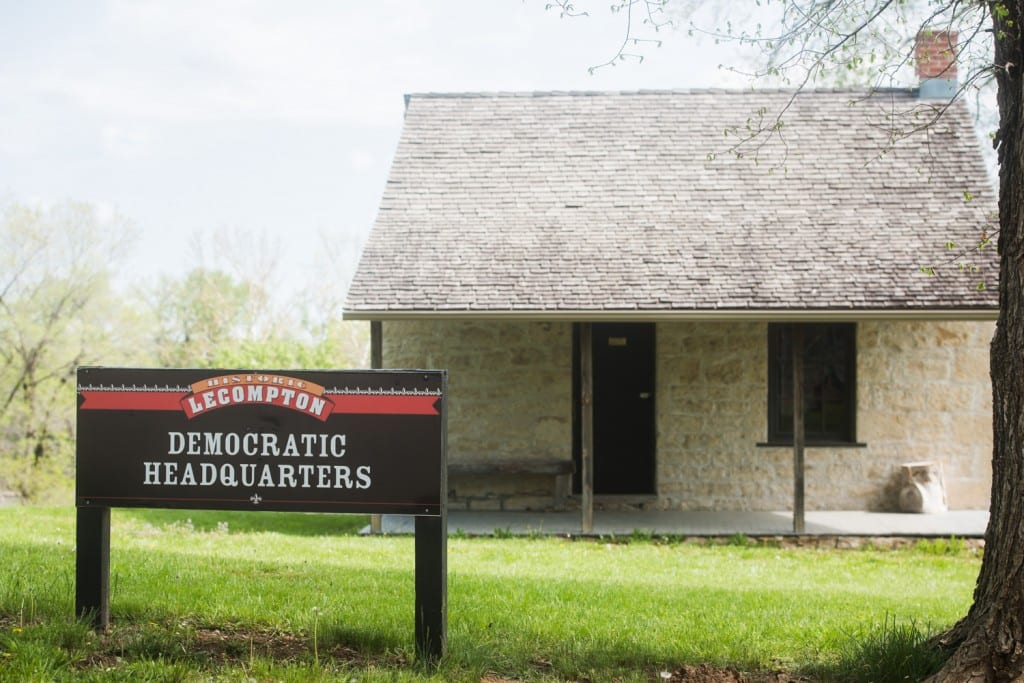 This stone building was the headquarters of the Kansas Democratic Party during the Kansas Territorial period (1854-61). The cabin was used during a time when Lecompton, known as "The Birthplace of the Kansas Democratic Party," was the territorial capital and stood at the center of national attention. Within these walls, ambitious and influential men gathered to discuss issues, plot strategies, and make decisions that helped to shape the destiny of Kansas politics and government.
Built in the 1850s by Italian stonemason Mark Migliario, this structure was attached to a log cabin that has since disappeared. It may have been the residence of William Simmons and his son Thomas. In 1853 the Simmons traveled from Indiana to this place where they "squatted" a year before Kansas Territory legally was open for settlement. The Simmons made their living on the Kaw River, where they fished and operated the Fairy Queen, a twenty-foot ferry made from hollowed-out sycamore logs.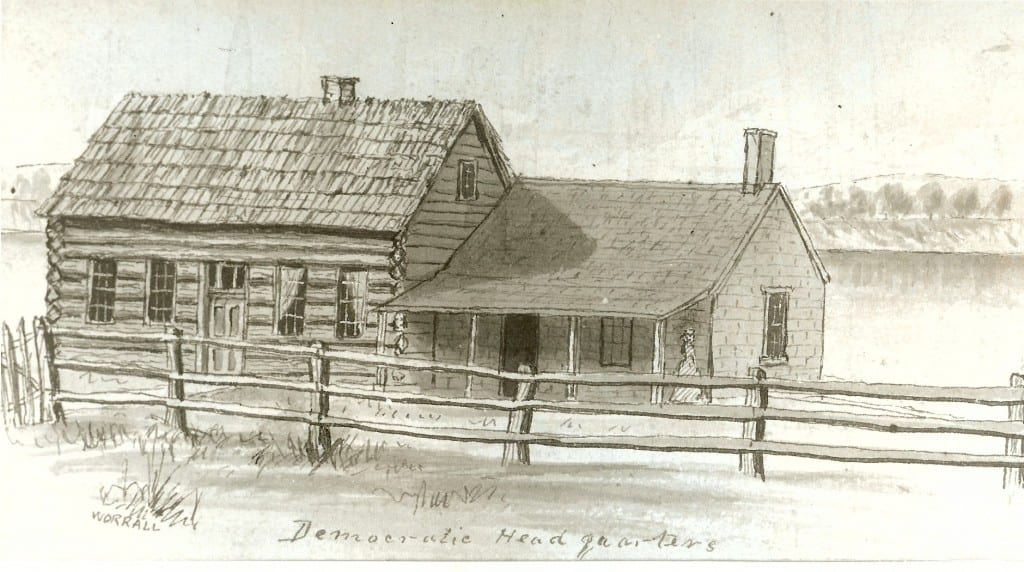 Later this building's function changed from politics to commerce when it was acquired by the Atchison, Topeka, and Santa Fe Railroad, which for many years used the building as a pay station.
In 1997, Pat and Aurelia Istas purchased the property and began a reclamation of the building and grounds. In 1998, the site was acquired by the Lecompton Historical Society. With the assistance of many generous individuals, businesses, and organizations, the Lecompton Historical Society restored the building and established the Historic Lecompton River View Park.
The Lecompton Democratic Headquarters was dedicated on June 27, 2004.